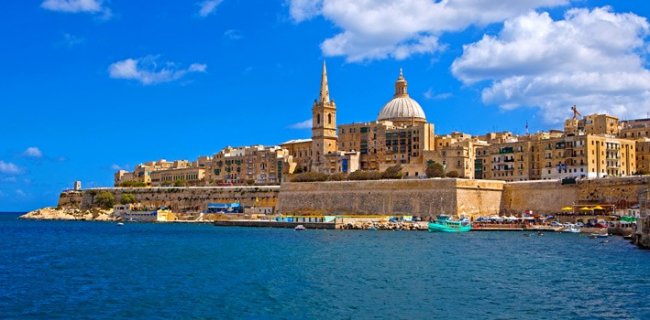 20 Surprising Facts About Malta
When I think of Malta, thoughts flood into my head of sitting in the baking sun, slurping ice-cream on St Paul's Bay and watching the ships out on the Mediterranean. There's something for everyone in Malta, and here we're going to look at 20 surprising facts about this beautiful little island!
There are 365 churches in Malta, one for each day of the year!
On the 1st May, 2004 Malta joined the EU.
Malta actually has their own language but the majority of the population also speak English.
Malta is around 179 miles (288 km) north of Africa and around 58 miles (93 km) south of Sicily.
The population is 400,000, the 3 islands, Malta, Gozo and Comino only equate to 122 sq. miles (316 sq. km).
Paul was shipwrecked on the island in 60 A.D. while on his way to Rome bringing Christianity to Malta.
The country held the record for the biggest gathering of people dressed as storybook characters. This was done by 453 people in March 2011 at Chiswick High School. This record was trumped in 2014 in Singapore with 1560 people.
Whilst on his way to Egypt, Napoleon took over Malta in 1798 from the Knights.
Malta became independent from the British in 1964.
Malta has their own Marmite-esque product, Kinnie. A bitter-orange-and-herb flavoured soft drink that's been popular since 1952. Personally, I don't like it!
Malta has a range of endemic Maltease wildlife including Maltese Ruby Tiger Moth, Schembri's Spider Fly and Maltese Field Beetle.
Favourite local desserts include kannoli's (fried pastry filled with ricotta) and Helwa tat-Tork (sweet mix of whole and broken almonds)
There are a plethora of famous faces born on this beautiful little island including 24 producer Jon Cassar, RED 2's Emma Heming and Game of Thrones hunk Andrei Claude.
A 330-feet deep submerged land bridge used to connect Malta to Sicily.
Malta once belonged to Britain, but as of 1964 Malta is now its own independent country.
Valetta, Malta's capital, is often known as the first planned European city, being sketched in 1565 during the order of St. John.
Evidence, including 11 Megalithic monuments, suggests people have lived on the island since around 5000BC.
Malta took their biggest footballing defeat in 1983, losing 12-1 to Spain, a game many claim was fixed to allow Spain to progress in the 1984 Euros.
As of November 2016, Malta stand at 156th in the Olympic ranking. In the 2016 Olympics, Malta had 7 participants but zero medals.
The largest Catherine wheel, built by Lily Fireworks Factory on 18th June 2011, in Mqabba, Malta, had a diameter of just over 105 ft (32 meters).
So there we have it, the beautiful island really does a range of mind-blowing trivia to satisfy everyone's fact-finding love. Speaking as someone who's visited the island numerous times, there really is something mesmerising about the country and I strongly urge everyone to visit. Whether you like it or hate it, you can't deny the ever-impressive historical significance of the island, or the stunning geographical areas.