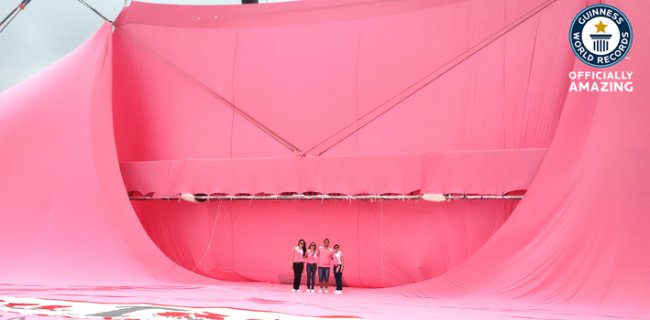 The World's Largest T-Shirt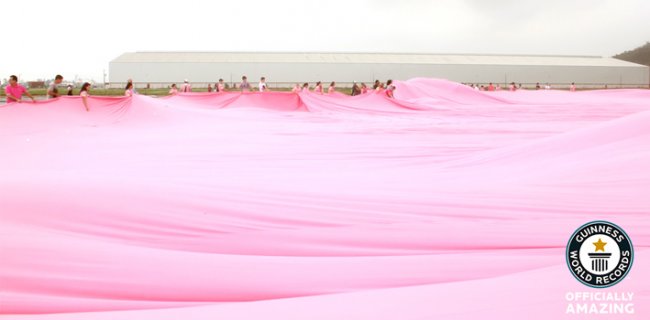 It's more than six times the length of a double-decker bus and larger than some football pitches. You'd struggle to find somebody to fit the world's largest t-shirt, but that hasn't stopped it from gaining the attention of people all over the world.
We first saw the t-shirt in October 2014 when it was revealed in Brazil. With a staggering length of 93.2 meters (305.8 ft) and a width of 62.7 meters (205.7 ft), it broke records as the largest t-shirt in the world.
The tee was created as an attempt to raise awareness for breast cancer. It was appropriately unveiled during October, since this is Breast Cancer Awareness month in many countries around the world. The company responsible for it was Equilíbrios Camisetas Promocionais, a Brazilian clothing business which began back in 1994. It gathered a wide customer base through manufacturing high quality clothing with a difference, but only hit headlines when it broke records with its enormous t-shirt. Helping to create and promote the t-shirt was the RFCC, an organization also known as the Female Network Against Cancer.
Unsurprisingly, the t-shirt was bright pink – the color associated with breast cancer awareness and many breast cancer charities. It featured the name of the company which created it, as well as the charity name (RFCC) in the top right corner. It was created using two main materials – cotton and recycled PET bottles – which each made up 50% of the t-shirt.
The shirt weighed a whopping 4,500kg (709 Stone), which is roughly the same as an adult hippopotamus. No wonder the project took so much manpower! A total of 64 people all worked together, putting in a combined total of 11,000 hours in a bid to smash the record. The whole project was coordinated by Rogério Tomaz, who remarked that it was wonderful to accomplish a big dream while also raising money for a great cause.
In 2014, it entered the Guinness World Records as the largest t-shirt in the world, overtaking the previous record-holder from 2011. Its predecessor was almost 80 meters long (262 ft) and just over 50 meters wide (164 ft), and was made by Gildan Activewear, headquartered in Montreal, Canada. It made its debut at the Country Music Association's 40th Music Festival, which took place in Tennessee, USA.
Both of these giant t-shirts were made with the idea of charity in mind. The item made by Gildan Activewear used enough material to make 12,000 regular-sized t-shirts, which the company pledges to manufacture and donate them to a music education charity, Keep the Music Playing.
After entering the Guinness World Records with their t-shirt in 2014, Equilíbrios Camisetas Promocionais decided to put all that material to good use. They managed to make 10,000 t-shirts which were then sold off as limited editions in order to raise money for the RFCC.
The coastal city of Navegantes, which was home to the unveiling of the t-shirt, also managed to break a record, since it was the first time that a Guinness World Records title had been awarded in this particular location.