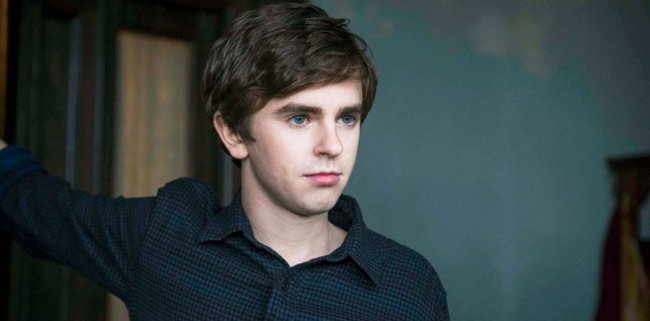 30 Facts About Freddie Highmore | Bates Motel
­­­­­­Freddie Highmore made his first on-screen appearance as a child actor back in 1999 when he was only 7 years old. Since then his acting career has gone from strength to strength, giving him the opportunity to work alongside great actors like Helena Bonham Carter, Kate Winslet, and Johnny Depp – to name a few. He plays the role of Norman Bates in A&E's Bates Motel, a contemporary prequel to 1960s Hitchcock cult classic Psycho. It's a great TV show and I'd heavily recommend you give it a watch. But today we'll be looking at Freddie's life, his hobbies and all manner of interesting facts about him, so kick back and enjoy.
His full name is Alfred Thomas Highmore, he was born in London, England, on Valentine's Day (February 14th) 1992, making him 25 years old.
Freddie's father, Edward Highmore, is a famous British actor, having starred in many British films and television dramas up until 2002, where his last appearance was a minor role in Ali G Indahouse.
Freddie's first film role came at the age of just seven when he starred in 1999 British comedy Women Talking Dirty, where he starred alongside Helena Bonham Carter.
During his career to-date Freddie has had the chance to work with some incredible actors, including Johnny Depp, Kate Winslet, Helena Bonham Carter, Kristen Bell, the late-great Robin Williams, and of course, Vera Farmiga.
In early 2002, when Freddie was just nine years old, he starred in the film Finding Neverland, which was the role that catapulted his career. He starred alongside both Johnny Depp and Kate Winslet, with the two esteemed actors highly commending him for his role in the film.
It was because of Finding Neverland that Freddie was recommended for his role in Tim Burton's Charlie and the Chocolate Factory by both Kate Winslet and Johnny Depp, and he was also recommended for the role of Norman Bates by none other than Vera Farmiga, who plays Norma Bates in Bates Motel. Vera and Freddie are very close on set and Vera calls him her 'best friend' – it's a shame their characters didn't get on so well!
Freddie enjoyed acting in Tim Burton's Charlie and the Chocolate Factory, having this to say about playing little Charlie: "It's neat, because in the film Charlie has a dream to visit the chocolate factory, and it comes true. My dream was to work with Johnny again, and it also came true."
Freddie and Johnny Depp are still great friends, with Freddie saying several times that when the two are in the same country they often spend time together to hang out.
Helena Bonham Carter has played his mother on screen three times! She was his mum in his first ever feature film, Women Talking Dirty in 1999, then again in Charlie and the Chocolate Factory in 2005, and lastly she played his step-mum in 2010 TV series Toast. Okay, so maybe that's closer to two and a half times than three but still!
Freddie's mother is a talent agent who represents both Freddie himself and Daniel Radcliffe, aka Harry Potter. Way back when, before the two of them had even acted onscreen, they were both childhood friends and playmates! Freddie and Daniel grew up together and Freddie has known the Radcliffe family almost all his life. When asked about it Freddie said, "it's funny that we've grown up and both ended up doing films".
In 2007 Freddie was supposed to play Daniel's role in Indie Film December Boys but had to opt out due to his grandmother being taken ill.
At the end of 2016, it was announced that Freddie's next role was baby-faced Nelson in A&E's drama pilot Baby Face, which he co-wrote and is an executive producer with Kerry Ehrin, who has written a fair few episodes of Bates Motel.
Freddie enjoys travelling and has always said that he'd like to travel the world, and in specific see the world's rainforests.
In his spare time, Freddie is also an accomplished musician, enjoying spending time playing the clarinet.
Freddie has absolutely NO social media accounts. None whatsoever. No Twitter, no Facebook, no Instagram, no nothing. It's because he isn't a fan of social media and good on him for sticking to that!
He is also a massive fan of football (that's 'soccer' if you're American) and his favorite team are London giants Arsenal. In fact, when in interviews Freddie often finds himself off course talking about Arsenal and how their season is going!
He is a multi-linguist and is fluent in both Spanish and French. Foreign languages are one of his favorite things to study.
Before accepting any roles Freddie always has a full discussion with his mother and the rest of his family to seek their opinions and advice.
In 2008 Freddie starred alongside himself, playing the two Grace twins, Simon and Jared, in the film adaption of The Spiderwick Chronicles.
He is a big supporter of the LGBTQ community, saying that if "someone [is] making a joke at the expense of the LGBTQ community – you have to speak up for it".
He's a very keen voice actor, having provided his voice to a number of voiceover roles in animation, films and games. Freddie says he enjoys voice acting as it offers a different challenge to onscreen acting and allows him to focus more energy on the singular output of his voice rather than many different facets of onscreen acting.
Before becoming the psychotic lead in Bates Motel, Freddie had openly expressed how eager he was to play a killer role.
Freddie and Mia Farrow, who played his grandma in Arthur and The Invisibles, had a near death experience driving in France together.
He wrote Episode 8 of Bates Motel's Season 4. In case your memory is a little foggy that's the episode where Norma, Norman and Romero have the world's most awkward family dinner ever before Norman comes close to swinging that big old axe at Romero.
He graduated from the University of Cambridge with a double-first in both Spanish and Arabic. He managed to balance his four-year studies whilst filming the first two seasons of Bates Motel. He was also a prominent member of the University's football team.
He is 5'10 tall (1.78 meters).
He was born just 7 months before Anthony Perkins passed away. Both of them have played the character of Norman Bates: Freddie in Bates Motel (2013) and Anthony in the original Psycho film (1960).
In 2004 Freddie starred in the music video for the Prodigy song 'Girls'. As cool as that is I seriously doubt Norma would approve…
As of early 2017, Freddie has won 12 awards for his acting: 6 for Finding Neverland, 2 for Charlie and the Chocolate Factory and 2 for August Rush. Throw in a People's Choice Awards Favorite Cable TV Actor award and a Satellite Awards Outstanding New Talent award and that tops his pretty impressive list of 12 awards. He's received 7 nominations for Bates Motel so far, but sadly no win yet. Although we all think you're passed due an award for it Freddie!
He's done voiceovers for several video games, including video game adaptions of the films he's been in like Charlie and the Chocolate Factory and The Spiderwick Chronicles. He also voiced Astro Boy in the PSP game of the same name, voice-starring alongside Veronica Mars actress Kristen Bell.