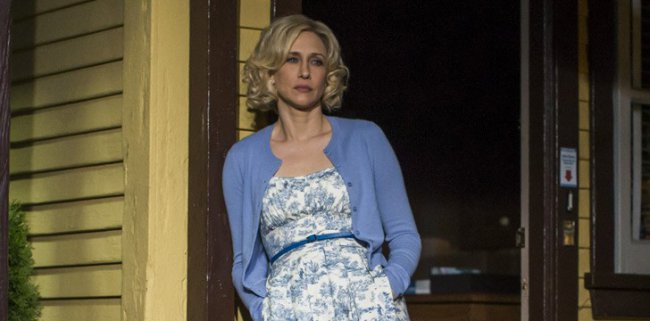 50 Facts About Vera Farmiga | Bates Motel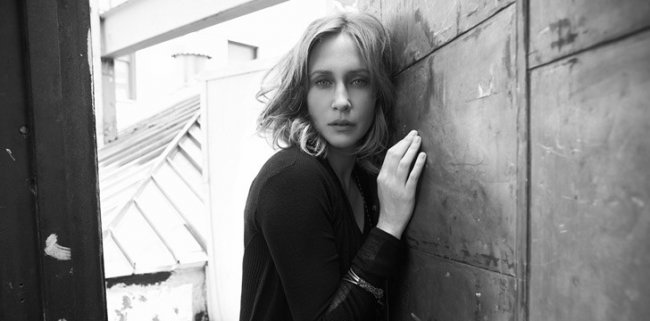 Vera Farmiga is an actress well-known to many. She's been on our screens for two decades now and has a very impressive résumé of work – odds are if you watch film and TV you've seen her in something! Chances are if you've seen her recently it will be in A&E's modern prequel to horror classic Pyscho, Bates Motel, where she plays the infamous Norma Bates. As the daughter of Ukrainian parents, Vera didn't ever think she'd get into acting, much preferring soccer over acting in school. However, she did get into acting eventually – and very successfully I might add! So before I go saying too much and spoiling this article for you let's get stuck in to 50 facts about the great, the fantastic, the incredible Vera Farmiga
Vera Farmiga is 43 years old and was born on 6th August 1973 in Clifton, New Jersey.
She is 5′ 7 tall, (1.7 meters) and she has naturally light brown hair, and blue eyes.
She was born to two Ukrainian parents, Mykhailo and Luba, and went to a Ukrainian Catholic school growing up.
Vera is the second oldest of seven children. She has one older brother, Victor, and five younger siblings; Stephen, Nadia, Alexander, Laryssa and Taissa.
Her youngest sibling Taissa is also a famous actress like her, having starred in many films but being most renowned for her reoccurring work in American Horror Story, having been in Murder House, Coven and recently the outstanding bar-raising Roanoake.
Vera's father was born in Ukraine but raised in Argentina, being a football (soccer if you're American) player for the Argentine National Team.
As a child she was in the Ukrainian Girl Scouts and did Ukrainian folk dancing in the Catskills during the summer.
She was even a semi-professional Ukrainian folk dancer in the dance troupe Syzokryli, instructed by dancer and choreographer Roma Pryma-Bohachevsky.
English wasn't her first language, and she only started to learn English when she was 5 – 6 years old.
Her parents were never into movies or TV growing up so it never really occurred to her to be an actress.
In school she was an avid football (again, 'soccer' if you're American) player – much like on-screen son in Bates Motel Freddie Highmore.
It wasn't until she was sidelined for the football team that she landed a role in a school play The Vampire, and decided after this to pursue her newfound passion for acting by taking drama at Syracuse University.
After graduating from Syracuse University, she did a bit of work in New York City theatrical productions, before starting to work on Television in the late 1990s. In 1997 she played a Celtic warrior in the TV series Roar, where she starred alongside Heath Ledger.
Before acting professionally Vera worked in customer service for an air conditioning company.
In 1998 she made her big screen debut starring alongside Vince Vaughn, Joaquin Phoenix and Anne Heche in the film Return to Paradise. This role landed her a few more supporting roles in the following years granting her the chance to work with the likes of Christopher Walken, Edward Burns and Robert De Niro.
In 2004 her performance in Sundance Film Festival film Down to the Bone blew audiences away. She won a Special Jury Prize award for her work in the film and this helped broaden her acting horizons.
In 2006 Vera landed a role in Martin Scorsese's crime-thriller blockbuster The Departed. She played the role of a police psychologist that becomes involved with two police officers, these being Leonardo DiCaprio and Matt Damon.
In 2008 she starred as the wife of the Nazi SS Commandant in the World War II tear-jerker The Boy in the Striped Pajamas. She even won a British Independent Film Award for Best Supporting Actress for this role.
In 2009 she starred next to George Clooney in Up in the Air, being highly commended for her work by critics and colleagues. Co-writer and Director Jason Reitman said "She's a brilliant actress… I needed someone who could go toe-to-toe with George Clooney. And she was perfect". She also received several nominations for this role including an Oscar nomination for Best Supporting Actress. Ever since, Vera and George have been great friends!
In 2011 she made her directorial debut with Higher Ground, which featured her sister Taissa's first acting role. It was also in 2011 that she landed a prominent role in big budget sci-fi film Source Code.
She was five months pregnant with her daughter Gytta when she finished filming Higher Ground.
Vera returned to work 3 months after giving birth to her daughter to work on 2012 film Goats.
In 2013 she starred in horror hit The Conjuring, as well as its sequel The Conjuring 2 in 2016.
She had never acted in a sequel until The Conjuring 2.
In 2013 Vera signed on for the role of Norma Bates in A&E's contemporary prequel to 1960s cult classic Psycho, Bates Motel. Her performance in this role has garnered much praise and has seen her become a cornerstone of the show.
She has been married twice, first to French actor Sebastian Roche, and then to Deadsy keyboardist Renn Hawkey, who she's still with now.
She lives on a farm in upstate New York with her husband Renn and her two children, son Fynn McDonnell Hawkey and daughter Gytta Lubov Hawkey.
She's an avid gardener and even keeps three angora goats called Zoshya, Fruzia and Sofika on her farm! She also has a dog called Muppet.
As a child she had a pet sheep and wanted some when she moved to her farm, but sadly there weren't any available so she went with her close second choice of goats!
Vera and her husband also own homes in New York, Vancouver and British Columbia, renting them out. An eye for business just like Norma Bates then!
She likes to spin wool in her spare time, and has a portable wool-spinning kit her husband got her so that she can spin wool in-between shooting scenes.
She's also said that if she wasn't an actress she'd be a shepherdess and go back to university to get a horticulture degree.
When auditioning for a part, Vera reads a script and then shoots a video as the character she's interested in playing. She does these videos of her own accord, sometimes with wigs, make-up, costume pieces or accents that she considers necessary. She'll make these videos at home with her husband filming them and then sends them in to the casting staff – that's how she got The Departed among other roles.
It was these video tapes that helped Vera make the transition into film. Her manager suggested the idea in 1999 and it landed Vera her first notable role in 15 Minutes also starring Robert DeNiro.
She was once asked by her agency to make a tape where she acted like her agent Tracy Brennan. They showed the tape at the agency's annual retreat and it was so good agents who weren't her own started putting her forward for roles! Her own agent, Tracy, said "I've never laugh so hard. She does me better than I do myself!"
Vera's not a great fan of Hollywood for several reasons. She once said regarding a sex scene from 2006 thriller Running Scared that "It can be impossible to preserve a noble image in this industry" which is one reason she prefers independent films.
One of the reasons Vera does so many independent films is because she disagrees with the way Hollywood often gives narrowly defined roles to women of a certain age, and when you look at all the different types of characters she's played in independent films you can understand why she does!
So it's not surprising she consciously chose not to live in Hollywood, instead living on her farm in upstate New York. She's said before that "Living where I do has always been a great vantage point for me. It allows me to live in a simple way where I don't need to feel the pressure of taking this role or that role just in order to maintain the lease on my very expensive hot-rod car. There's none of that."
Doing a lot of indie films does have its drawbacks however. One of her most important roles, Down to the Bone (2004), only had a limited release in New York and LA. It did land her a Special Jury Prize at Sundance that year though.
She regretted not winning a part in Todd Haynes' film I'm Not There about Bob Dylan. Although she didn't stay down for long after losing out to Cate Blanchett, saying "It could be different next time".
Whenever Vera gets a script that she hates she burns it. She said in an interview "I stack up all those crass female characters, all those utterly ordinary women, all those hundreds and hundreds of parts that have no substance or meaning and turn them into a blazing pyre." When asked why she said "It's really cathartic," she explained. "It's my revenge on Hollywood insensitivity and greed. The ashes go to the compost. At least the scripts can finally help the world in some way." Now that's one hell of a way to say no if you ask me!
Although she knew that The Departed is what got her a lot of wider recognition, she's under no illusions that her character was a little bland. After the principle photography wrapped she had a word with director Martin Scorsese about making her character more rounded, and he agreed to a reshoot and added more scenes in for her. After that she said it was better, but still thought her character was more of a device than anything else.
Her sister-in-law, Molly Hawkey, is also an actress and a photographer. She's starred in Finding Carter and Mad Men to name a couple, and also had a role in Vera's directorial debut Higher Ground.
When talking about her religious beliefs, Vera describes herself as a nondenominational Christian. She said in an interview that "My father instilled in me – of utmost importance and innate in me is the yearning to determine for myself – to define God, to define holiness for myself. That was my parents' number one lesson for us." She says that whilst she has her religious beliefs that she's not often home enough to regularly attend a church, so to her "God is in temples and in churches, and on park benches. I don't belong to any particular church, but I'm someone who will be able to walk into any place of worship, any house of worship, and have a direct correspondence."
Much like on-screen counterpart Norma Bates, Vera is very musical, being a skilled pianist and guitar player.
She drives a black Chevrolet Corvette.
As well as speaking fluent English and Ukrainian Vera can speak some French and Spanish.
She was the Executive Producer for Season 5 of Bates Motel.
As of April 2017, Vera has won 19 different awards for her acting throughout her career, including two for her portrayal of Norma Bates in Bates Motel.
Vera is a practitioner of Japanese martial art Jujitsu, being graded an orange belt in it so far.