4th place: Luxury sandals from brilliants and tanzanite, estimated price $ 2 000 0000 were invented by Stuart Weizman in collaboration with high-end jewelry designer Eddie Le Vian. This is explosive duo of talented designers managed to create a stunning silvered sandals of 28 carats of colorless brilliants and 185 carats of ultramarine gemstone tanzanite of the highest quality. Jewelry composition of the stones, which encircles the ankle, is very similar to a luxury necklace accidentally misused. They were first shown in Las Vegas in the summer of 2008.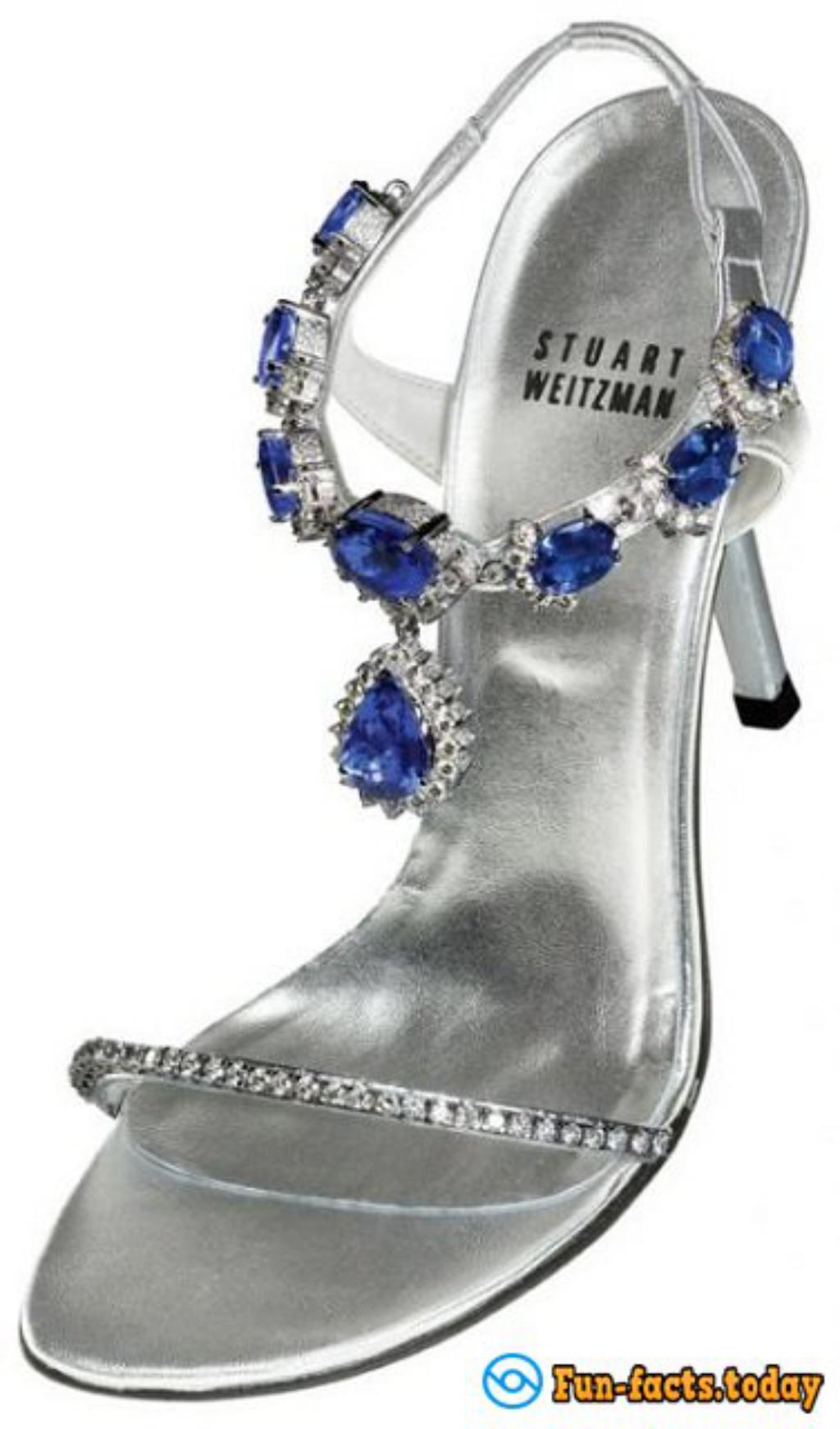 3rd place: "Shoes for the Cinderella" – shoes with 11-inch heels, with 595 carats of Kwiat brilliants on it. On one of them there was placed a 5-carat brilliant, color amaretto, which itself is estimated at $ 1 million. American violinist and singer Alison Krauss was the lucky one, who had put on this jewelary shoes at the Academy Awards in 2004. The cost of a pair of exclusive shoes from the great designer Stuart Weitzman reaches 2 million dollars.
2nd place: "Rita Hayworth" sandals masterpiece of Stuart Weitzman. It is a simple-looking shoes of satin chocolate color, which were created in earrings style, owned by the legendary Hollywood diva of late 40s years. These same earrings inlaid with rubies, brilliants and sapphires, were placed at the center of satin bows adorning the Weizmann masterpiece. For the first time these sandals wore an American actress and singer Kathleen York at the Oscars in 2006. The price of this is $ 3 million.
1st place: Ruby shoes from Harry Winston – another version of the famous slippers of the protagonist of the movie "The Wizard of Oz", which was released in theaters in 1939. For the fiftieth anniversary of the creation of films son of a famous jewelry designer Harry Winston, Ronald Winston, decided to create something great, of great love of people for this tale. Two months of tedious and painstaking work of the jewelry house Harry Winston were spent on shoes decoration with 4600 rubies , which total weight is 1350 carats. In addition to the precious rubies pair of shoes was decorated with 50 carats of diamonds. Estimated that this work of art and shoe jewelry costs about $ 3 million.