Scientists say about the advantages of exercises of medium intensity in the elderly. You know very well that exercise is very good for your health. But if you've led a sedentary life, first you will feel pain in the muscles and a few diminished desire to continue training. But a new study conducted among women shows that the old belief is true never too late to start something, especially when it comes to physical exercise.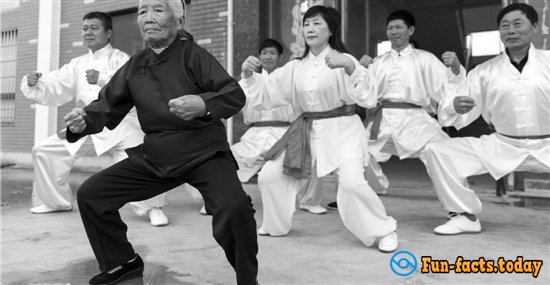 So what can you do in time to take advantage of all the advantages of physical activity? The answer to this question has the 93-year-old resident of China Chzhag Hesyan! The 93-year-old resident of China Chzhag Hesyan engaged in Kungfu. This form of martial arts, she began to explore in early childhood. The woman said that Kungfu allows her to be healthy.
Kung Fu lessons should definitely be continued, it is good for health, but it can not do bad things! she often says to her relatives.
By the way, in her family, almost all engaged in this kind of martial arts. In the family, Chzhag Hesyan soon expected to appear already the fifth generation. And she is really happy about this.
For a very advanced age woman has remained a habit to get up at 4 am and go to bed at 6-7 pm. Every day Chzhag Hesyan goes on the market for the products and prepares them herself.
By her healthy lifestyle grandmother submits a good example to her children, grandchildren and great-grandchildren.